Road to College Night will be tomorrow night, November 29th starting at 6:00 PM in the THS Cafeteria.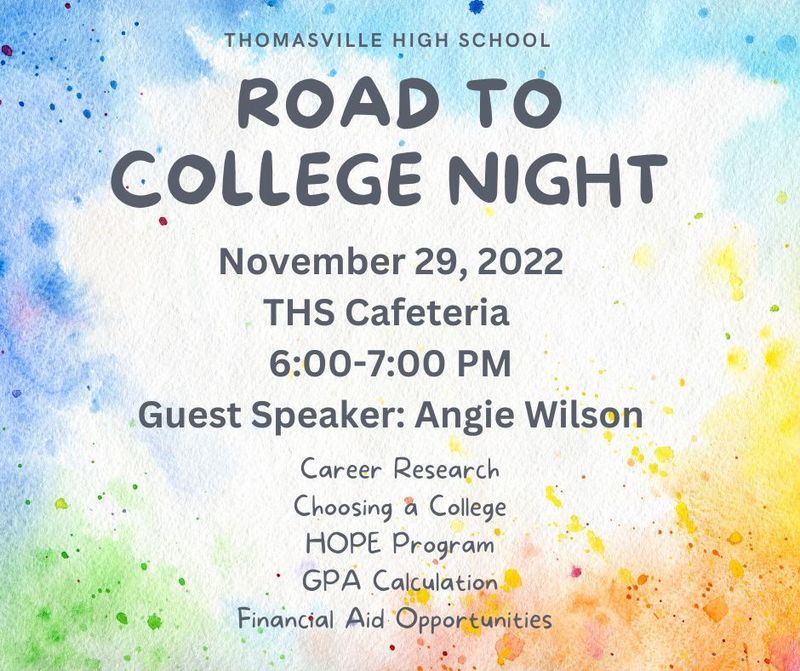 Seniors Do you need help with the FAFSA form? Mrs. Angie Wilson will be at THS Thursday, December 1 from 1:00-3:00 PM for any assistance you may need. Please make arrangements with your 4th period teacher if you need to come by during this time frame.
It's time to start planning for the Spring Musical! Anyone interested in auditioning should stop by Mrs. D's Room after school to sign up and receive audition information. Auditions will be held this Wednesday from 3:30-5:00 for Middle School students and from 5:00-7:00 for High School. Whether you're new to Drama or a seasoned pro, everyone is welcome to audition!
The Book Club is partnering with the Thomasville Library to conduct a Book Drive from December 1st- 16th. Please bring those new/gently used books to Ms. Strausser.
We have 3 weeks left for this grading period, so finish strong and take advantage of all the help that is available. Mr. Connell is offering Math Tutoring in Room J2 at the THS main campus. It will begin promptly at 3:30 on Mondays, Tuesdays, and Thursdays and run until 5:00. Don't wait until the last minute to get those grades where you want them!
Senior Ads are available until Dec 16th (the last day before Winter Break) and yearbooks are on sale for $65 until January 27th.