Financial Aid Night is October 24th at 6:00 PM in the THS Cafeteria.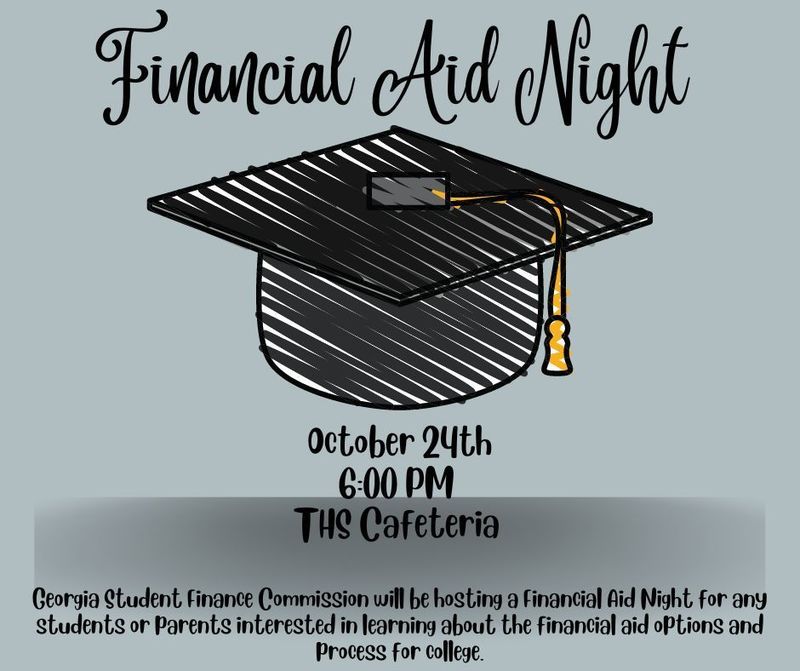 The deadline to sign up for the PSAT/National Merit Scholar Qualifying Test is tomorrow. The exam is October 25. Please bring the $18 fee to Ms. Jordan during FLEX. Only Juniors and Freshmen taking it have to pay. All sophomores are automatically signed up and take it for free. Study books are available in Ms. Jordan's office.
Seniors: We will be taking the annual Senior Class picture this Friday during Flex. Please report to the THS football field by 9:35 that day wearing black or blue pants and a plain white shirt.
The THS JROTC Ultimate Frisbee Team will play an exhibition game vs the Thomasville Fire and Police Departments on Friday at 6:00pm. Cheer on at the Veterans Memorial Stadium, admission is only $2!
The One Act performance is this Saturday at 7pm in the SA Auditorium. The theme is "Every Brilliant Thing". It's an invitation to imagine a future that's better than the past.
Our Homecoming Court was voted on and announced before Fall Break. Congratulations to your King, Simon Harper, and Queen, Jordyn Bowdry. Laila Harvey was voted Ms. Bulldog and Olivia Gainey is Ms. Spirit. Thank you all for representing your Bulldogs!