Girls Soccer tryouts are after school today on the game field from 3:30 to 5 pm. You must have a physical on file with the nurse to participate.
Tomorrow the JV and Varsity Boys Basketball teams will take on Pelham. The JV game begins at 6, with the Varsity game to follow. Region play will begin for both the Boys and Girls teams on Friday when Cook comes to Thomasville.
There will be a golf meeting this Thursday at 3:45 in the team meeting room located in the football field house.
Yearbook Senior Ads will be on sale until January 15th. Please see Ms. Strausser to order yours or to get more information.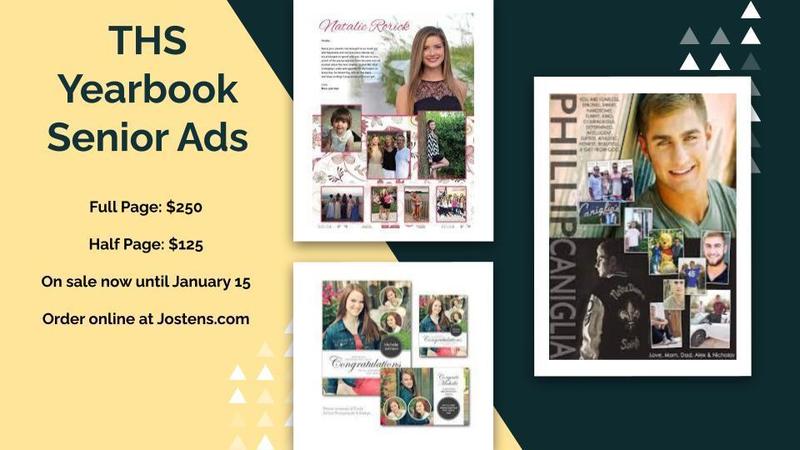 Thomasville City School District is offering the ACT this spring. This assessment will be offered to sophomores, juniors, and seniors at a cost of $44. Please sign up using the link on the Events Page on the SA website. The deadline to sign up is Friday, January 21st, 2021.
Mrs. Dyksterhouse is in need of shoeboxes for a set design project. If anyone got a new pair of shoes over the holiday and you haven't thrown the box away yet, please bring it to her classroom or the front office.
Congratulations goes out to our Boys Basketball team for their two victories in the Holiday Hoopfest last week. On Tuesday night the boys defeated Brooks County 71-34 and followed that up with an impressive 88-54 victory over Chiles on Wednesday. Senior Amarion Banks was named to the All-Tournament Team, while Senior Tyson Anderson was named Tournament MVP.
The girls team also had a successful tournament as they defeated Brooks County on Tuesday 55-20. On Wednesday the girls were defeated by Monroe 59-42. Junior Laila Harvey was named to the All-Tournament Team, while Senior Sanaa White was named Tournament MVP.