High School Europe Trip Interest Meeting will be Tuesday, September 14 at 6:00pm in the SA Auditorium. Your parents will need to attend the meeting with you. The trip will be in June of 2022, and will be theatre and art based. If you have any questions, please contact Mrs. Ivey Jackson or Mrs. Dyksterhouse.
Tickets for Friday's football game against Bainbridge are available online through Ticket Spicket. Tickets will be sold at the THS Dog Pen today and tomorrow from 10:00-2:00. Presale tickets are $8, tickets at the gate are $10. Friday's theme is Sold Out, Gold Out. Wear your best Bulldog Gold color in support of Childhood Cancer Awareness Month.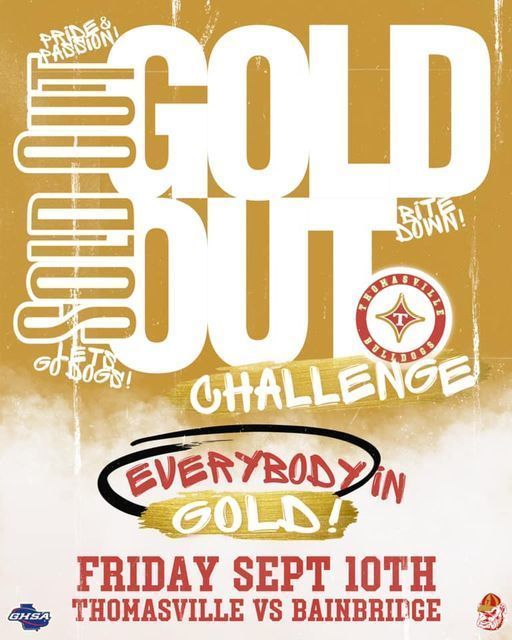 Swim Team Interest Meeting September 22, at 3:30 PM in the THS Cafeteria with Coach Kenly Milam.

Ms. Piazza will have English tutoring every Tuesday and Thursday after school in her classroom, G5.
Today, the THS softball team will play in Berrien County at 4:00, the MS softball team will play versus Baker County at 4:00 and Cairo at 4:30, the JV football team will play in Cairo at 5:00, the THS volleyball team will play Baker County at home at 5:00 and Randolph Clay at 7:00.