Students please return the School-Parent Compact Signature sheet!
Freshmen please return the Chromebook Contract Form that was sent home with you from your English Teacher. If you need another please stop by the Media Center. We need this contract on file.
This week is our annual Thomasville Week! It is time to paint the town RED and GOLD!! Every day show our Bulldogs your support by wearing RED and GOLD ALL OVER TOWN! Be sure to take pictures and post them all over social media to show your support of our student-athletes.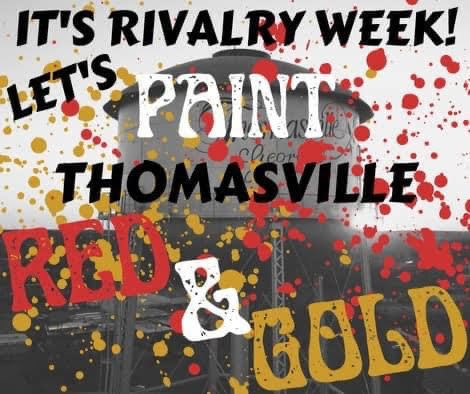 This Thursday, August 26th, from 4:30-7 the THS football cheerleaders will be hosting our annual drive thru pep-rally in the football stadium parking lot! The cheerleaders will be painting car windows for $5. There will also be a small concession stand. Pompoms, megaphones, and tattoos will all be available for purchase. The band will be stopping by at 5:00 for a performance! We look forward to seeing all of our bulldogs painting the town red and gold with their cars painted!
Applications for SGA class officers need to be returned by Monday, August 23. Please deliver to Ms. Felts on the SA campus or Mrs. McDonald (H1) on the THS campus.
There will be a FBLA (Future Business Leaders of America) interest meeting on Wednesday, August 25th at 3:15 in the computer lab with Mrs. Bennett. If you are not able to attend the meeting but are interested in joining FBLA see Mrs. Taylor at THS or Mrs. Bennett at Scholars Academy.
The One Act Callback List will be posted Tuesday, August 24th in the afternoon outside Mrs. D's room and Callback Auditions will be held on Thursday at 3:30 in the auditorium. Only students on the Callback List need to attend.
There will be an informational soccer meeting in Coach Peterson's room on the Scholars' campus at 3:15 on Monday, August 23 for all middle school and high school boys that are interested in trying out for soccer this year. Please see Coach Peterson if you cannot attend.
CHARITY ALERT!!!
THS Volleyball is selling shirts to raise money for the Rally Foundation.
Shirts will be $20 with 100% of the profit going to the foundation. Please message us with the size(s) you would like to purchase. The pre order time frame will end Wednesday August 25th at midnight. They will be perfect to wear under the Friday Night Lights during the month of September, which is Childhood Cancer Awareness Month.
Here is a personal testimony from a friend, when asked about different foundations:
"Personally, Rally Foundation has supported us the most through our journey. They were the only organization who called during ******'s treatment and did many visits to the hospital. They showed up with Thanksgiving dinner without us asking. And they support many research projects. The one that was done in ******'s name was given to a doctor in Alabama and she wrote us a personal letter. They also covered 10 art therapy appointments for ****** but it was open to any of us."
If you would like to know more about Rally! read below or visit https://rallyfoundation.org/