Thomasville City Schools focuses on supporting the community through learning, nutrition, and service. As soon as the state government began discussing school closures in response to the novel coronavirus COVID-19 outbreak in Georgia, the leadership team of Thomasville City Schools was in motion developing a plan to continue vital nutrition programs, distance learning options, and expanding services for continued support.
During these unprecedented times the COVID-19 virus has forced educators to tap into their digital learning resources. Thomasville High School is no different. Like all of the schools throughout the district, digital learning is already incorporated into the traditional classroom setting. However, now teachers are using their Google Classroom platforms to further the instructional process for the students of Thomasville High School during these challenging times when schools are currently mandated by Governor Brian Kemp to be closed until April 27, 2020.
Administrators at THS report that they have continued with traditional subject department meetings through the Google Hangout platform. Even though administrators are addressing concerns from the faculty, teachers are also able to collaborate as a department with administrative guidance to treat these challenging times as a normal school day.
THS Assistant Principal Jordan Williams said, "We are fully committed to working with all stakeholders as we transition to this new normal."
From a curriculum perspective, Thomasville High School already implements many digital instructional resources throughout a normal school day. Teachers are continuing to incorporate IXL, USA Testprep, Gizmo's (Science Curriculum), Infinite Algebra, and many other digital resources within their classes at this time.
THS math teacher Kate Stewart has made all of her assignments available for her students through Google Classroom. She is posting daily tutorial videos of herself giving that particular day's lesson as if the students were in a traditional classroom setting. Stewart and her students provide each other feedback through school email and Remind 101.
THS English teacher Sally Hawthorne said, "This has been quite an unusual time for teachers, students, and parents." Hawthorne continued, "I have sent out mass emails to every student I teach, as well as their parents, and I have also used the Remind app weekly - sometimes daily - to keep everyone as informed as possible."
In addition to those two methods of contact, Hawthorne set up a Facebook page, "Sally Hawthorne's Classroom," for this unique situation.
Healthcare Science teacher and Thomasville City Schools' Teacher of the Year, Barbara Grave de Peralta has incorporated AES Education, Applied Educational Systems.
"With the help of AES during these challenging times, they were willing to assist our program in adding more students to our current license at no additional charge, and we are very thankful for their generosity."
The platform has all the content related to each of Peralta's three class levels of Healthcare Science, Introduction to Healthcare, Essentials of Healthcare and Allied Science. Students can access lessons, quizzes, and module tests when Peralta assigns them.
Art teacher Janet Cable has incorporated digital learning into her teaching quite successfully.
Cable said, "The district and administration have provided each teacher in the district with effective professional learning about the Google Classroom platform and now this digital resource is paying off immensely during these uncertain times."
Cable explained that she sat down immediately upon hearing the news of the closures and converted all of her classes to Google Classroom upon the request of administration. She has posted and attached assignments while also providing her students with "how to guides" within their assignments every day. Cable checked behind to make sure every student successfully joined the platform and then communicated with any parents about any specific technological needs.
"I have learned to be flexible with families, and I am in consistent communication with my students and their parents through the virtual piece and through our school email," Cable said.
Technological needs have been addressed by setting up days for families to check out Chromebooks, and teachers have been provided with countless online resources and tutorials for various education platforms that they may not have been utilizing prior to the school closures. Director of Instructional Technology Ivey Manwaring has been communicating with teachers and staff and shared a "tech help" email address created especially for technology-related requests.
Athletic Director and THS Assistant Principal Christopher Merritt reports that while the Georgia High School Association has mandated no practices and games, the limitations have made Zach Grage and his staff carry on in creative ways.
"It's all about relationships with our kids and their families," Grage said. "Our coaches have gone above and beyond to let each of our players know we love them and we are thinking about them."
Coach Grage and his staff have incorporated even more technology within the program while posting workouts online for students to access from home.
"The kids can't be in a traditional weight room setting at the school and many may not have free-weights at home, so we have improvised and instructed the students to perform their workouts with their body weight and communicate this with their position coaches."
The Thomasville High School football program has continued their daily protein drinks to ensure student-athletes are continuing to make gains during these adverse times. Coach Grage and his staff have also started planning for the unknown in the event the district remains shut down beyond April 24, 2020.
"This week we are incorporating the Google Classroom model to start our install meetings April 13, in the event the shutdown is prolonged." Grage continued, "Our goal is not to take a step back but we are being creative as staff and continuing to think outside the box to ensure our kids are prepared as much as possible for when we return as a district."
Athletic coaches and activity sponsors stepped up to the challenge of continuing to serve Thomasville City Schools' students by picking up meals to deliver to students to eleven off-campus sites.
Merritt said, "It's during times like these when our true character is displayed, and I will be honest that I am thankful, but more importantly blessed to be surrounded by strong, character-filled education professionals and an athletic department staff that is willing to put themselves to the side and focus on serving our students."
Merritt says that he continues to be amazed at the teachers for their creativity in continuing the educational process and at the coaches and sponsors putting in the time to deliver food and give back to the Thomasville community.
"I am thankful that all of these individuals represent the Diamond T of Thomasville," said Merritt.
Director of Nutrition Jeana Smith clarified that the district wants to make sure that students are taken care of even when they are not in school and added that there are a lot of students in Thomasville that depend on school breakfast and lunch in order to meet their nutritional needs and to fend off hunger.
"One of our goals in school nutrition is ensure that no child goes hungry," said Smith.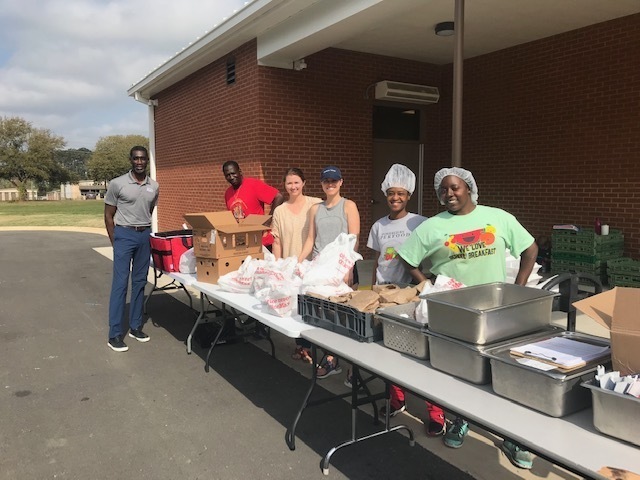 Thomasville City Schools' nutrition program is serving approximately 1200 meals daily which began as soon as school closed on Monday, March 16, 2020. The district will provide meals to students during the third week of closures by offering a week's worth of food for pick-up/delivery on Monday, March 30, 2020.
"Once the governor and superintendent decided it was best to close schools, our team pulled together and came up with a plan to make sure out students continued to get fed. We are evolving the plan as we meet the changing recommendations from the CDC and the changing needs of the community.
Smith added that the district's Student Services Team, led by Tina McBride, is responsible for the excellent job of organizing the meal delivery routes that have been going out into the community.
"The whole process has been a result of the teamwork of the employees of Thomasville City Schools," said Smith.
Superintendent Ben Wiggins has been impressed each day seeing the community pull together in the face of this adversity.
"We continue to assess the best options for our students and district. Our teachers and nutrition staff have gone above and beyond to meet the needs of our district and we hope to maintain that support and familiar service during these uncertain times. It has been inspiring to watch our nutrition program, student services department, technology staff, administrators, teachers, and coaches lead this effort. Maintaining the tradition and excellence of Thomasville City Schools will continue to be our focus as we serve our district," said Wiggins.
Students and parents are encouraged to download the Thomasville City Schools app which contains the latest news and details regarding the district and its services.