Thomasville High School's welding program has increased six-fold from last school year, and Southern Regional Technical College Instructor Carl Kemper is embracing the numbers with enthusiasm.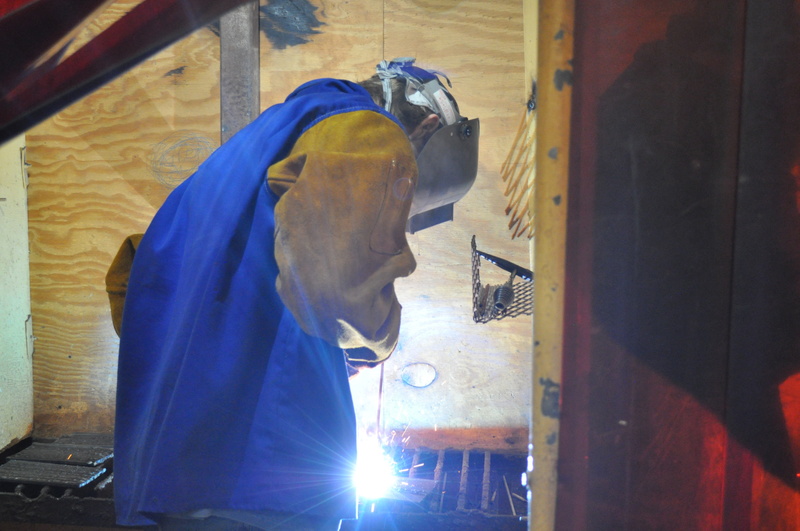 Kemper, who's in his tenth year of teaching welding and holds a Masters in Science Education from University of Georgia, enjoys welding in his time outside of the classroom.
"I'm not anti-college. I advise students to get an education while finding out what you love to do," said Kemper.
Sophomore Joseph Lindquist decided to enroll in welding just because he thought it would be a fun thing to do.
"I realized after I got in the class that it's harder than I thought it would be. It is very precise," said Lindquist.
According to the Georgia Department of Education: Upon completion of sequenced courses in the Welding Career Pathway, students are eligible to complete the Industry-Recognized student credential for fulfillment of the End of Pathway Assessment. Secondary students completing the Welding pathway will be able to sit for the National Industry Credentialed assessment offered on-line from AWS, NCCER, NOCTI and SkillsUSA. Once mastery is reached, students will receive recognition for completion and use this credential in conjunction with their job or continuing training (gadoe.org).
Kemper took his students to competitions such as Skills Challenge and to field trips to local businesses like Cleaver-Brooks last year. He plans to add even more opportunities for students to compete and experience real-life welding.
Jikiem Thomas is a senior and he knew that he already liked welding because he has a history of the career in his family.
"Now that I'm doing it, I've fallen in love with it and I'm going to be the best that I can be," said Thomas.
Natural hand-eye coordination increases a student's chances for success in the field of welding according to Kemper.
"This is like learning to play the piano or the guitar. Many of my naturally-talented athletes do really well," said Kemper.
Students learn three welding processes: stick, mig, and tig. Kemper says that his students are employable within one year by earning certificates along the way.
Whitt Wetherington decided that the class was a good choice because he thought that it might help him out in the future.
"I thought it would just be welding; but I'm cutting metals and learning about different tanks, torches, and types of welding," said Wetherington.
Thomasville High School CTAE Coordinator Shamane Taylor feels very positive about the program.
"I can only see it just growing and growing," said Taylor.
Georgia DOE also reports: Employment of welders, cutters, solderers, and brazers is expected to grow 15 percent from 2010 to 2020. This employment growth reflects the need for welders in manufacturing because of the importance of welding as part of the manufacturing process.